HTML TAGS TO IMPROVE YOUR SEO RANKINGS!
HTML is the Stepping-Stone of a webpage. This is something truthful about Html we do know already! What we don't know is which HTML TAGS really matter when it comes to the digital promotion of your Website.
Alright, Let's Discover the
7 important HTML tags

that are mandatory to enhance your SEO Practices.

We all know that SEO is the HEART of Digital Marketing. Similarly, HTML TAGS are arguably one of the most fundamental parts of technical SEO. But, did you ever wonder how can HTML tags make any difference in boosting your SERP? Never Mind! Let's keep it in a very simplified way to make you understand the top HTML elements to better communicate with the search engines to strike it rich your SERP rankings.

Many a time In SEO, we try to focus on one aspect of optimization efforts more than others. Instead, we should focus more on a comprehensive SEO strategy. Part of which includes using HTML meta tags – an essential component for SEO success.

Appropriately using the right HTML meta-tags is all about interacting with the search engines. That strikes some basic queries like:
What your page is about?
How to read the page?
Who should see it?
Keeping that in mind, let's figure out which HTML meta tags are crucial for SEO, and how to use them well.
1. HTML TITLE TAGS
The Title Tag is the most important anchor that typically appears as a clickable headline in the SERPs and also shows up on social networks and in browsers.
Title tags hold much importance to search engines and generally used by search engines to regulate the subject of a specific page and display it in SERPs.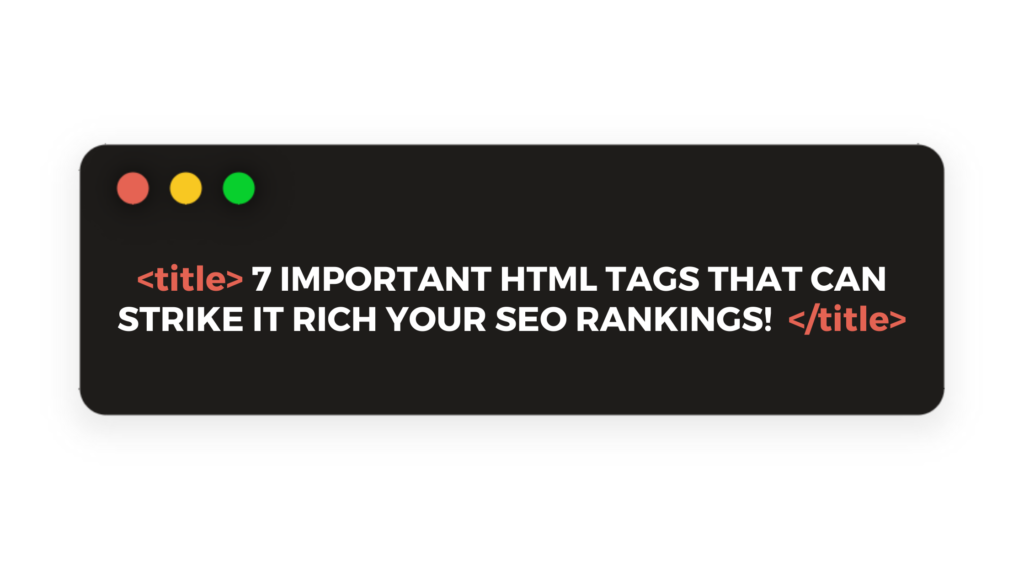 BEST SEO PRACTICES:
Provide each page with a unique title that describes the page's content not only concisely but accurately as well.
Use a maximum of 50-60 characters for the titles so that they don't get truncated in SERPs.
Place important keywords first but in a very natural and subtle manner.
Mention your brand name always in titles.
2. HTML META TAGS
The Meta Tags are the description that appears in the webpage generally displayed in a SERP snippet with the page title along with a page URL.
Meta tags are code snippets that inform search engines of important information about any page, like how they should display it in SERPs.
BEST SEO PRACTICES:
Give each page a unique meta description that reflects what value the page holds.
Google's snippets typically max out around 150-160 characters including spaces.
Include the most significant keywords to get highlighted on the actual SERP, keeping in mind that you avoid keyword stuffing by making your description just a combination of keywords you're targeting.
Optionally, use an eye-catchy call-to-action for every unique proposition you offer!
3. HTML HEADER TAGS
The Heading tags are basically used to identify headings and subheadings within your content from other types of text (like paragraph text).
Header tags provide structure and context for your page. Each header gives the reader an idea of the information they can extract from the page content.
BEST SEO PRACTICES:
Keep your headings relevant to the bunch of text they are describing because search engines always take them into account.
Keep your headings reflect the sentiment of the text they are placed over. Avoid headings like "Unit 1… Unit 2… Unit 3…".
Don't extra use the tags and the keywords. Keep it readable for users.
4. HTML ALT ATTRIBUTE
The image ALT ATTRIBUTE is added to an image tag to describe its contents and are quite important in terms of on-page optimization.
The ALT ATTRIBUTE specifies the image's alternate text if the image cannot be displayed for any reason and the SEO goal of the alt attribute is image indexing.
BEST SEO PRACTICES:
Best optimize the most eminent images that are likely to be looked up in Google Images search.
Add alt text on pages where there's not too much content apart from the images.
Keep the alt text clear and descriptive enough, use your keywords reasonably. Also, make sure they fit naturally with the page's content.
5. HTML OPEN GRAPH TAGS
The Open Graph Tags, initially introduced by Facebook lets you control how a page would look when shared on social media.
Open graph tags are additional meta tags in HTML<head> section that help in boosting search and display abilities for social media.
BEST SEO PRACTICES:
Add generic and relevant metadata using Open Graph protocol, and test the URLs to check how they will be displayed.
Just like Facebook's Open Graph Tags, Set up Twitter cards and validate them once done.
6. HTML CANONICAL TAGS
The Canonical tags are quite useful in terms of rankings also defining which version of a page you consider the most rated one and would like to be indexed by search engines and found by the end-users.
Canonical Tag is used to telling the search engine which of those few similar page addresses is the most important one. It also spares you from the risk of duplicate content.
BEST SEO PRACTICES:
Apply the canonical tag to the following pages:
Pages available via different URLs
Pages with very similar content
Dynamic pages that create their own URL parameters
Use canonical tag for near-duplicate pages carefully: if the two pages connected by a canonical tag differ too much in content, the search engine will simply disregard the tag.
7. HTML ROBOTS TAGS
A Robots Meta Tag tells search engines how they should crawl and index a page. It informs crawlers what items should get noticed or ignored.
BEST SEO PRACTICES:
Address bots by name
Close unnecessary or unfinished pages within content that have lesser value and no intent to appear in the SERPs.
Close pages that unreasonably waste crawl budget.
Make sure you don't mistakenly restrict important pages from indexing.
The Covering Words
Some meta tags happen to be a must-have, as they build up the entire taxonomy of your page while other tags may not be that vital.
So with minimal changes you can improve user experience and help search engines understand your site better.