What is a GOOGLE TAG MANAGER? Why Use it?
Are you unfamiliar with the term
Google Tag Manager

? If yes, then you probably be questioning yourself about what it is and why it is mandatory to use right? Don't brood. With this editorial, we will help you puzzle out the most universal questions around the Tag Manager.
What is Google Tag Manager and Why Use it?
Google Tag Manager (also referred to as GTM) is a free tool that lets you manage and deploy various JavaScript Tracking- Codes on your Website without any need to modify the code. This means, with Google Tag Manager you can add and manage various scripts from a single dashboard only! Sounds interesting right?
Apart from that, you can also use custom HTML to add your tracking pixels or any other code snippet that you might want to add.
Given below is an example of how GTM works, where we can see that the information captured from data source #1 (which is your website) is shared with another data source (like Google Analytics) through Google Tag Manager.
How

Tag Manager works?
If talking about the Tag Manager, all we can think about is the 3 major concepts of GTM: TAGS, TRIGGERS & VARIABLES.
TAGS:
GTM TAGS are the JavaScript Snippets/Tracking Pixels that tells GTM what to do.
Tags are the tracking pixels that can be placed on the back end of your website to perform a particular function. These pieces of code can retarget visitors or track conversions.
Today, there's not much Tags Can't Do! Mentioned below are some of the most common Tags within Google Tag Manager:
Google Analytics Universal tracking code
Adwords Remarketing code
Adwords Conversion Tracking code
Heatmap tracking code (Hotjar, CrazyEgg, etc…)
Facebook pixels
DoubleClick
WordPress
TRIGGERS:
GTM TRIGGERS tells GTM when and how to fire a tag.
VARIABLES:
GTM VARIABLES are the conditions that give additional information GTM might need for the tags and triggers to work.
That's all about What's and How's regarding Google Tag Manager. Now let's head over to our next topic which is….
STEPS FOR ADDING TAG MANAGER CODE IN WORDPRESS:
Once you're done with setting up your Google Tag Manager account, The first and foremost thing you will need to work on is to install and activate Insert Headers and Footers plugin. After activation, you will need to visit Settings » Insert Headers and Footers…
#1 Paste your tag manager code in the header section, inside the opening and closing of the <head> —– </head> tag: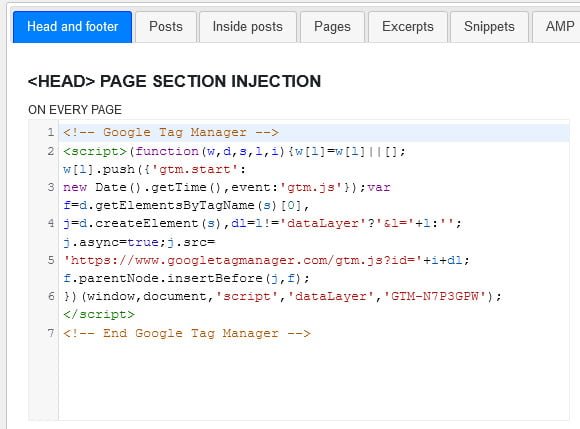 #2 After adding your code to the header section, paste your tag manager code in the body section, inside the opening and closing of the <body> —– </body> tag:
These are the places that you'll want to paste the code snippets from the Tag Manager. Now, Click on the save button to store your settings.
Testing:
Now to ensure that the Tag Manager has installed properly, reload your website, right-click, and click View Page Source to see the page HTML. Or, You can verify successful installation by opening Google Tag Manager's Preview Mode by simply clicking the Preview button.
And that's it! You have now successfully installed and setup the Tag Manager for your WordPress site.
Brain Boner:
With this article, you can say that with the help of the Tag Manager, you can tell what data to share with Google Analytics. It may help your website load faster making the whole process time saving for the users.